Get smarter video alerts on what's most important to you.
Video Analytics distinguishes people from animals or vehicles and enhances perimeter security and property awareness. Get a video alert if someone lingers at your door, a car enters your driveway or your naughty pet jumps on the sofa.
Track customer flow through your business.
Business Activity Analytics is a better way to manage your business and protect your customers using your security cameras. Uncover actionable business insights that help manage customer flow, make informed decisions and optimize operations.
Video cameras that coordinate with your security system? That's smart.
Get an automatic video clip when someone disarms the security system, unlocks the front door or sets off the alarm.
ALIBI Cloud vs Camera-to-Cloud Video Surveillance
SIMPLE. SECURE. SCALABLE.
No recording devices to manage
Unlimited cameras, locations, and user-access
Secure off-premise data storage
No contracts or committments
ENHANCED SECURITY
Encrypted, reliable, redundant
Unparalleled accessibility
View multiple locations – anywhere, anytime
Future-proof
Flexible, scalable, and always up-to-date
Continuous delivery
Real-time access to the latest features and security updates
Cloud Managed Video Surveillance
Combining the performance and reliability of local recording with the convenience and flexibility of the cloud, OpenEye Web Services produces a greater return on your investment, saves you time, and provides an easier, more secure surveillance solution.
Complete remote administration saves you time and money
OpenEye Web Services streamlines management of recorders, users and permissions by moving them to the cloud. Changes are instantly pushed to all users, clients, and associated devices and with groups making managing large numbers of users and devices simple and pain free.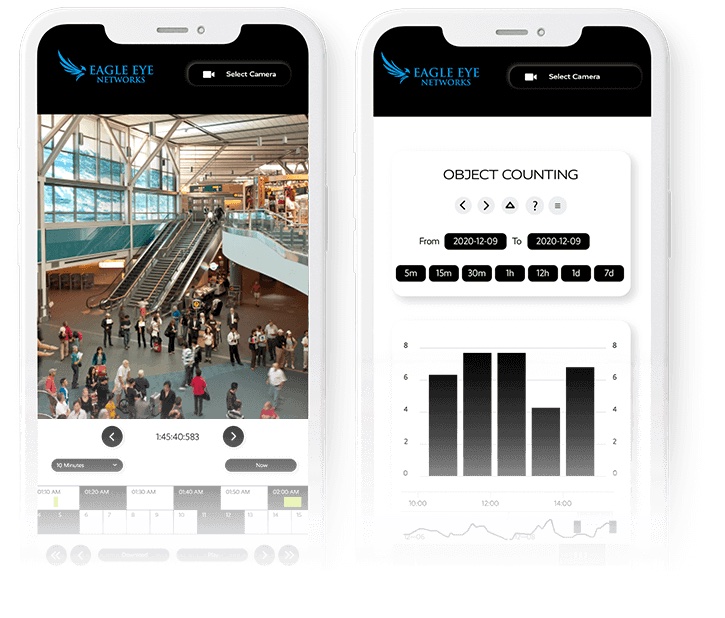 Open Platform,
Endless Possibilities
Leverage Eagle Eye's open, true cloud platform and artificial intelligence (AI), to dramatically transform your video surveillance system into an even more powerful tool. With video AI, the possibilities are limitless for keeping communities secure and engaged, helping businesses improve operations and customer service, and enabling manufacturers to build higher quality products in safer environments.
Small Device. Infinite Visibility.
See your entire world, on the go, from any mobile or laptop device. No matter where you are or what time of day it is, you can view live cloud video, search historic video, adjust camera settings, email videos, and more.
Public clouds cater to large numbers of users who pay as needed but are subject to price increases and policy changes implemented by the cloud provider. The Eagle Eye Cloud is purpose-built to store and manage video. Because it's purpose-built, the Eagle Eye Cloud is more efficient and faster for video, designed to minimize latency and provide cost savings by eliminating the middleman.